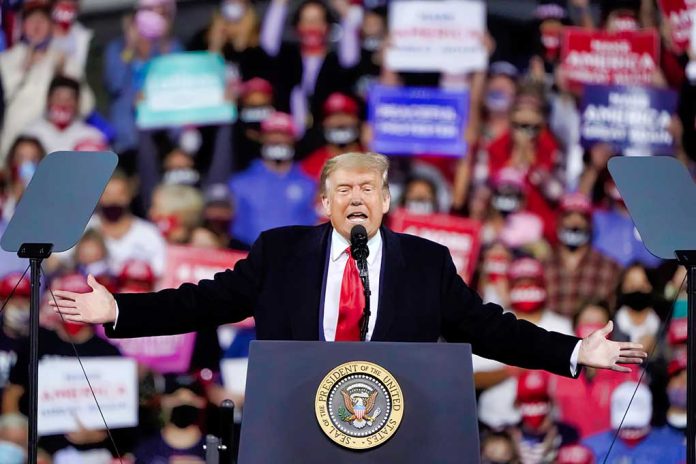 (ConservativeInsider.org) – The Jewish New Year is the start of the High Holy Days, Rosh Hashanah, and like most politicians, former President Donald Trump took to social media to wish those who celebrate a Happy New Year. Within the same post, he took aim at "liberal Jews" for voting Democrat and showing perceived disloyalty to America and Israel.
Joel Swanson, a Ph.D. candidate who studies the history of Judaism and religious studies, said this statement must be considered what it is: a threat to accept MAGA politics, or the entire right-wing movement will be against you. Swanson believes that American Jews who oppose Trump would never vote for him despite being conflicted over several political questions.
Trump has had a complicated political relationship with the Jewish faith in recent years. Orthodox Jews, the more conservative sect of Judaism, support him consistently, according to the Pew Research Group. Orthodox Jews account for approximately one in ten Jewish adults. The remaining Jewish adults are staunchly Democrats, and about two out of 10 are described as moderate voters who could break for either party.
Pew says seven out of 10 adult American Jewish voters are very liberal. These same Americans mostly approved of Trump's handling of conflict in Israel, but that wasn't enough to move the liberal American Jews to the Republican side.
The Jewish Electoral Institute conducted a recent survey in the summer of 2023 of 800 registered Jewish voters, asking if the election were between Biden and Trump again, who would they vote for? Overwhelmingly, Biden was favored at 72% to 22%. Those in support of Trump were primarily Orthodox Jews who favored a very conservative position.
The research shows the two top issues for most American Jews noted on the survey were the future of democracy and the economy, with abortion and climate change rounding out the top four issues driving voting behaviors.
Copyright 2023, ConservativeInsider.org