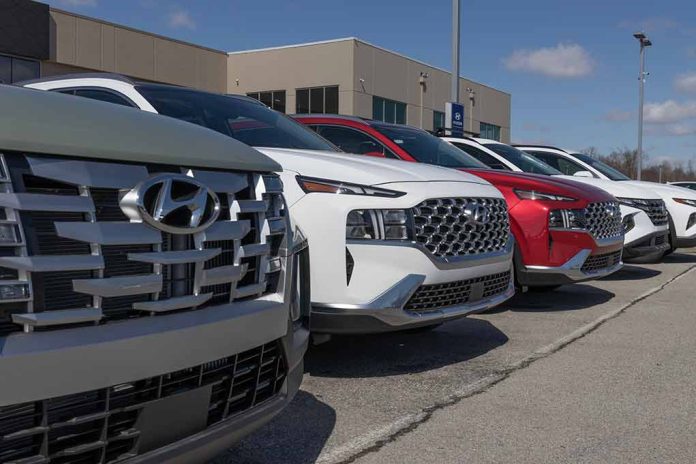 (ConservativeInsider.org) – The antilock brake system is failing in Hyundai and Kia vehicles, prompting the auto manufacturers to instruct owners to park outside in case of fire. The issue affects 3.3 million vehicles in the US. The vehicles affected date back to 2010 and cover the full range of options, from sedans to SUVs. The O-ring within the anti-lock brake system is failing over time, resulting in the leaking of brake fluid that could ignite a fire with an electrical short.
The recall announcement, made in conjunction with the NHTSA (National Highway Transportation Safety Administration) advises owners to not only park outside but away from buildings or valuable property. Over 40 fires and fire-type incidents are related to this issue.
Michael Brooks, executive director of the nonprofit Center for Auto Safety, is reasonably frustrated that the automakers aren't fixing leak problems immediately and wonder why they are waiting so long to notify owners. Both manufacturers plan to start sending notices to owners in late November, despite the fact that this issue is known now in mid-September. Hyundai and Kai contend that there are no accidents attributed to this issue and the overall likelihood of fire is low.
This recall comes one month after the same auto manufacturers are recalling nearly 100,000 new vehicles for fire issues related to an electronic controller in their oil pumps.
Beyond the risk of a Kia catching fire, 9 million Kia's have been found to be susceptible to easy theft this year due to the ability to start the vehicle with a USB and a screwdriver, as exposed in a series of TikTok videos.
Despite these issues, Kia and Hyundai are winning over customers and maintaining consistent sales. Overall, they have a solid offering of vehicles that appeals to many customers. The NHTSA confirms that most Kia and Hyundai vehicles have a good safety rating overall.
Copyright 2023, ConservativeInsider.org