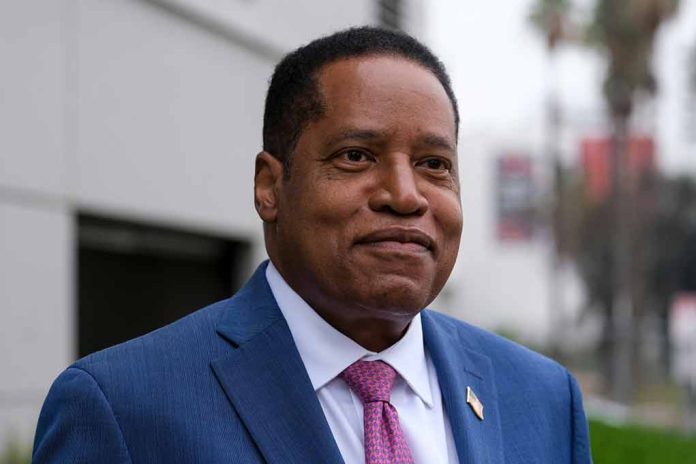 (ConservativeInsider.org) – Conservative talk radio host Larry Elder has announced that he is dropping out of the 2024 presidential race and has chosen to endorse former President Donald Trump.
In a statement released last week, Elder said he reached the "difficult decision" to pull out of the presidential race after "careful consideration" and discussion with his team and was now choosing to throw his support behind former President Trump. Elder expressed support that Trump would "Make America Great Again" by restoring law and order, ending the epidemic of fatherless homes, as well as reigning in government spending. Elder also expressed deep gratitude to his supporters and hope that Republicans will unite behind Trump to unseat incumbent President Joe Biden.
A graduate of Brown University with a degree in political science, as well as a law degree from the University of Michigan School of Law, Elder has spent several decades in the public sphere, hosting TV and radio shows, as well as authoring several books including "The Ten Things You Can't Say in America" and "What's Race Got to Do With It?" Elder has also written syndicated newspaper columns in addition to running his own law firm, Laurence A. Elder & Associates.
Elder, who is black, has repeatedly spoken out against the idea of "systemic racism" in the United States, as well as the "woke" agenda from Democrats, and the Black Lives Matter movement. He said he felt a "moral, religious, and a patriotic duty" to run for president to fight the lies and agenda pushed by the left.
The talk radio host had previously attempted to unseat Gov. Gavin Newsom of California during a recall race in 2021 over criticisms of Newsom's response to the pandemic. Though he was the top Republican opponent to the Democratic governor, his attempts were unsuccessful.
Elder is now the fourth Republican candidate to drop out of the race, following the exits of Miami Mayor Francis Suarez, Texas Rep. Will Hurd, and Michigan businessman Perry Johnson.
Copyright 2023, ConservativeInsider.org