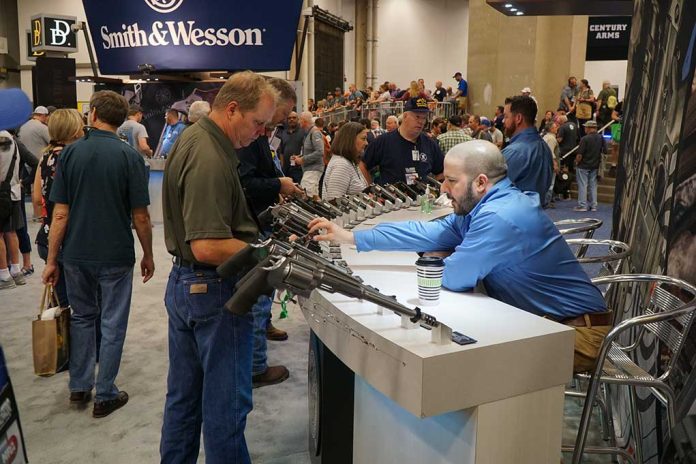 (ConservativeInsider.org) – One of the oldest and most well-known firearm manufacturers in the United States, Smith & Wesson, has relocated their headquarters from Massachusetts to Tennessee. Smith & Wesson was founded in Connecticut in 1852 and relocated to Springfield, Massachusetts shortly after.
The new headquarters had a ribbon cutting ceremony this past weekend, with tours of the facility available to the public. The new facility is 650,000-square feet and cost $125 million to build. Senator Marsha Blackburn, a Republican from the state, attended the ribbon-cutting ceremony, stating that she and the people of Tennessee are "thrilled" to welcome Smith & Wesson to Tennessee. She added the Tennesseans know that the Second Amendment is "non-negotiable." The president and CEO of Smith & Wesson, Mark Smith, said he looks forward to the next 170 years of Smith & Wesson, calling Tennessee "something special."
The move has drawn praise from Republicans and the National Rifle Association, who lauded the gun manufacturer for moving to a red state that was more friendly towards firearms owners than blue New England. Tennessee has expanded gun rights in recent years thanks to Republican leadership, including a 2021 law that would allow adults who are at least 21 years old to carry a handgun without a permit.
The Executive Director of Advancement for the NRA, Tyler Schropp, congratulated the manufacturer on their move, as well as their strong legacy, saying they are an important part of preserving the gun industry in America and our Second Amendment rights. Schropp also said that the NRA was proud to have helped pass the Protection of Lawful Commerce in Arms Act.
The ribbon-cutting ceremony for the new manufacturing featured Jerry Miculek, a competitive shooter who broke an NRA world record by shooting six steel plates in under two seconds from seven yards away, which Schropp congratulated him on.
A spokesperson from Smith & Wesson said they plan to add a museum and a retail store onto the manufacturing facility in coming years.
Copyright 2023, ConservativeInsider.org